Education
---
In addition to a school district that includes 4 elementary schools, a middle school and high school, Oneonta is also home to two colleges…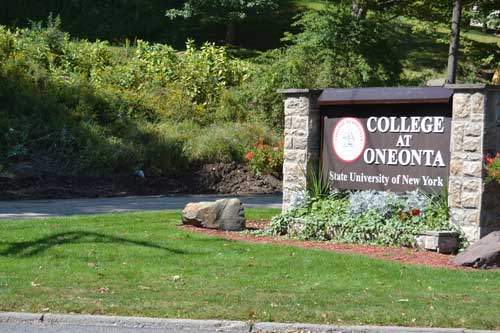 The larger of the two, SUNY Oneonta, has an undergraduate enrollment of 5,800. An average of just under 20% of its students are self-identified as having muti-cultural backgrounds, which ensures a diverse and lively environment for engagement and learning – both within the campus community and without.
There are nearly 500 full and part-time faculty, providing a student to faculty ratio of approximately 18:1, and an average class size of 21 students. There are 15 graduate and post-baccalaureate programs, and nationally accredited programs that include business economics, education and of course, music.
SUNY Oneonta is renowned for its music programs, as well as the many musicians whose talents provide entertainment for the community throughout the year.
Red Dragon baseball, softball, lacrosse, soccer, basketball, swimming, track and field, wrestling and more keep students and spectators cheering.
–
Then, there's Hartwick…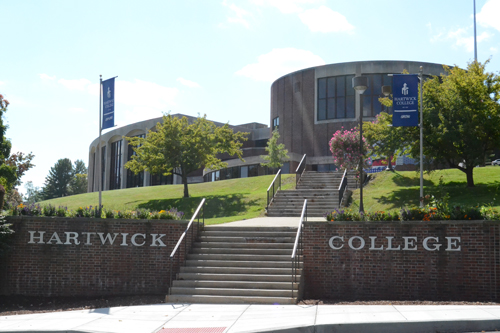 Located on a beautiful 425-acre hilltop campus within walking distance of downtown Oneonta, Hartwick College offers an expansive curriculum emphasizing an experiential approach to the liberal arts and sciences. Its student body is comprised of around 1,500 students, many of whom come from all over the country and the world to engage in an educational program that offers more than 30 majors, over a dozen minors, an average class size of just 18, and a student-to-faculty ratio of 11:1 that makes learning a personal experience.
Hartwick also fields a slate of varsity teams across a wide variety of sports, and is nationally-recognized for its Division I soccer and water polo teams, among others.
Along with the athletic events, the college shares many other entertainments with members of the community, who can be readily found in the audience for plays, concerts, lectures, and other special presentations.
Both colleges contribute greatly to the economic stability of the community and to Oneonta's reputation as an educational and cultural center.Add to that though, the educational facilities of Utica School of Commerce, the Oneonta Job Corps vocational training program, the various programs of BOCES and the Arc Otsego and Springbrook and it is safe to say that living in Oneonta can be an enlightening experience.