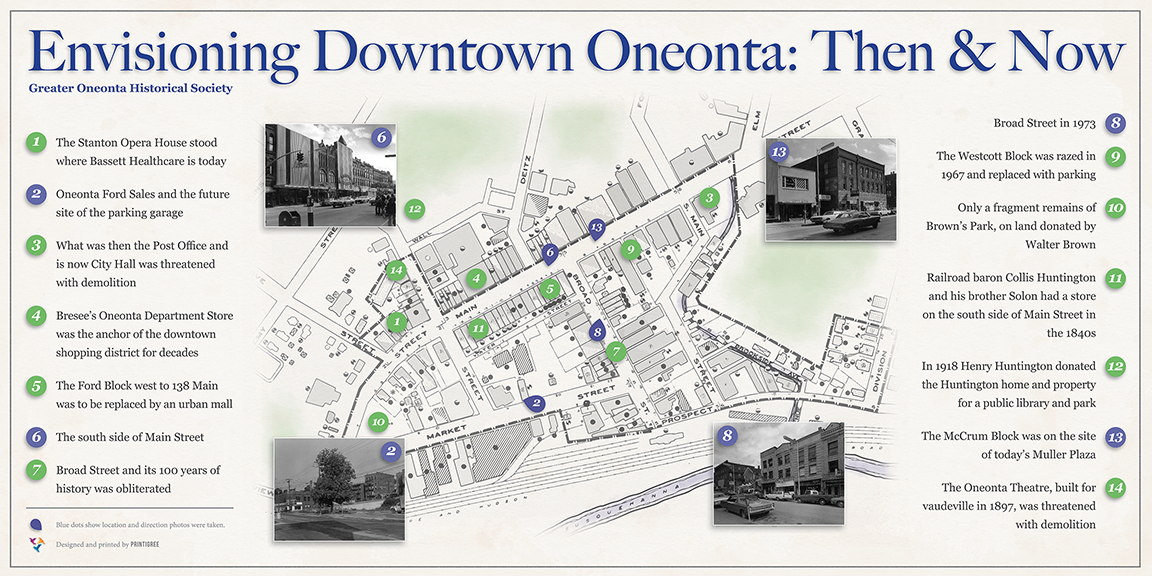 On Sunday March 25 at 2:00 PM, the Greater Oneonta Historical Society at 183 Main Street will host a panel discussion on past and current trends in urban renewal policy and how they have affected Oneonta. The panelists will be
Carli Ficano, professor of economics at Hartwick College, who is especially interested in the impact of "big box" stores on both local entrepreneurial activity and local business closings.
Gary Herzig, Mayor of the City of Oneonta; and
Nancy Kleniewski, president of SUNY Oneonta and an urban sociologist who has written several books and articles about urban policy.
The discussion will be moderated by Gary Wickham, with a question and answer period to follow.
Prof. Ficano says that "Oneonta is poised to occupy a sweet spot in the urban renewal landscape by drawing upon its rural agricultural roots, providing just enough proximate culture to feed the mind, and enabling authentic community-building to satisfy the soul. As large urban centers suffer the downsides of their own revitalization success in the form of high rents, overcrowding, and inaccessible schools, small cities can and should step up to fill the void. Oneonta offers 'life enjoyed' in the 'City of the Hills to those seeking to escape the super-cities of decades past.'"
From Mayor Herzig: "More than ever, downtowns are the heart of any community. Today's generation of entrepreneurs and families are looking for sustainable lifestyles with downtowns that provide quality living and working space along with opportunities to network and share cultural and artistic experiences. Oneonta is well situated to become a leading upstate urban center for the future if we make the right decisions now."
From President Kleniewski: As we think about Oneonta's future, it is good to reflect on past policy decisions that interacted with the market to shape the present city and its environs."
Free and open to the public, the program is in conjunction with the History Center's current exhibition on urban renewal, "Envisioning Downtown Oneonta Then & Now". For more information, contact (607)432-0960 or info@OneontaHistory.org.