ONE of a kind
By the Greater Oneonta Historical Society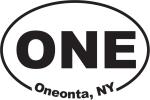 ONE stickers are seen on vehicles in Oneonta and far afield. The stickers originated with the Greater Oneonta Historical Society, which introduced them in Spring 2015. ONE magnets followed. The stickers and magnets are sold at the Oneonta History Center as well as several other Oneonta venues.
What does ONE mean? Of course, it's the first three letters of Oneonta. It might also mean that the town and city of Oneonta are one community. Or that we in Oneonta are all part of one community, regardless of whether we are college students or not, and regardless of our religion, politics, ethnicity, sexual orientation, or other differences. Or that we Oneontans are unique, ONE of a kind! Choose your preference!

Get yours at 183 Main Street, or check them out here!