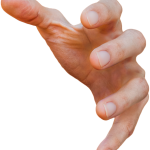 Kindness Team volunteers Pat Raczkowski and Rakesh Gonsalves literally saved a woman's life while serving at the downtown Kindness Station on Friday night, 9-27-17. At the end of the night a very intoxicated young lady thought it was a good idea to climb the iron fence separating the elevated Water Street from the parking garage. On the other side of the fence is a 20-foot drop off.
This was taking place directly across the street from the Kindness Station and Rakesh was the first to notice the situation unfolding, and the danger that the girl was putting herself in. Right away, Rakesh turned to Pat, pointed to the girl, and said, "Pat, we gotta move." They both ran up to the girl and Pat made it to her just in the nick of time. Right as she slipped, Pat reached over the fence and caught her with his right arm while grasping the fence with his left, preventing her from plummeting 20 feet. The girl seemed thankful, but too intoxicated to fully grasp what just happened. Meanwhile, Pat's arm was in pain for the next week, but that's a small price to pay for saving a life.
Crazy as this story sounds, a similar incident actually happened last semester when someone fell from the second story of the parking garage while we were doing the Kindness Station. I'm unsure how that incident turned out, but I remember seeing several emergency vehicles respond. It's reasons like this why I tell volunteers, "The more help we have, the more good we can do." That night, having more help meant saving a life. Last semester, we couldn't prevent the person from falling. This semester, the Kindness Team happened to be at the right place at the right time–something we pray for each night we go out!