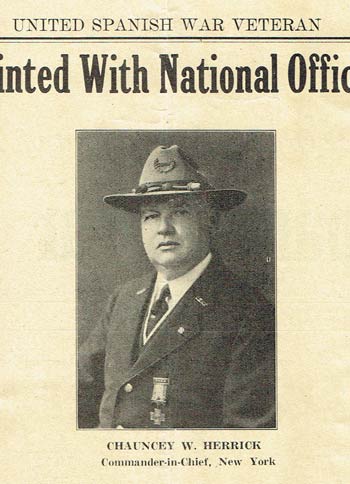 Written by Bob Brzozowski
Chauncey Herrick was born in Laurens in 1876. His family moved to Oneonta when he was 10. After working in cigar making, plumbing, and other jobs, he became a special agent for the IRS. His work took him all over the country. In the 1920s he was appointed head of the IRS' Chicago field office. His testimony that Al Capone offered him a million dollar bribe was a critical part of the 1931 trial in which Capone was found guilty of tax evasion and sent to prison.
He served in the Spanish-American War and became national commander of the United Spanish-American War Veterans. He was also active in both the Masons and Elks in Oneonta. Herrick died in San Francisco in 1937 and is buried in Glenwood Cemetery in Oneonta.
These images are found in Herrick's personal scrapbook, which is part of the collections of the Greater Oneonta Historical Society.
ONEONTA HISTORY CENTER EXTENDS HOURS
The Greater Oneonta Historical Society (GOHS)  has announced that the Oneonta History Center's hours have been extended. The History Center at 183 Main Street is now open 12:00 noon to 4:00 PM Monday through Friday and from 10:00 AM to 4:00 PM on Saturday, as well as for special events or by prior arrangement. GOHS executive director Bob Brzozowski states that "We are pleased to be able to increase the History Center's hours. Now more residents and visitors may learn about the rich history of the town and city of Oneonta through our exhibitions, displays, and programs, as well as to purchase unique local history items in our shop."