-By Kaler Carpenter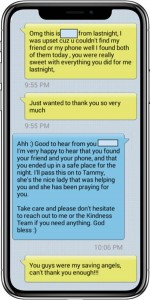 On a brisk Saturday morning in November, around 2am, I spotted a girl on Center Street by herself, crying, and wearing a halter top in 30-degree weather. I immediately pulled over and offered assistance. She was shivering so I invited her inside my warm car. She accepted and I recognized her as someone I tried helping earlier that night, but was unable to because her friend led her away from the Kindness Station.
The distraught girl shared with me her dilemma; she got separated from her friend, she lost her phone, her friends weren't home, her car was dead, and more. Most of all, she was worried about her friend (the same friend from earlier). I promised I would help and I began by driving slowly through the neighborhood, trying to locate her friend. Neither of us saw her so I drove to her dead car in the parking garage. I then gave her my phone so she could contact her friend, but there was no answer. This made her cry even more.
At this time, Tammy Miller from the Kindness Team arrived and we jumped her car. As soon as the engine started I tested her BAC with the breathalyzer, it was 0.12. I showed her this and she parked her car and gave the keys to Tammy. I then left her with Tammy so I could drive a group to campus. Before leaving, I prayed with her that she would find her friend. Later, I knocked on the door of the apartment that I found her in front of. Thankfully, a girl answered who was the roommate of the missing friend, and she knew where she was at! I told her we have her friend safe at the Kindness Station and she asked to come along. I then reunited two friends and took them both home.
All the next day, Tammy felt compelled to pray for the young lady. On Saturday night, she sent me a nice thank you message.